McCurdy Insurance Mobile App
Download Our Mobile App!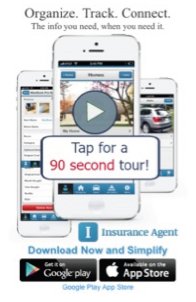 We are excited to bring to our clients the service and convenience of the Dennis A. McCurdy Insurance Agent mobile app! The app provides you with immediate information, straight from your smartphone. Go to Google Play or the Apple App Store and download the Dennis A. McCurdy Insurance Agent app now! Best of all, it's free!
Our mobile app gives you more control and easy access to your insurance information. We've simplified connecting, paying bills, filing claims and protecting your property, and storing your auto ID and policy info. Get in touch and get things done with the following features:
● Quick connections to your agent or our agency
● Receive notifications and important alerts about storm safety, policy updates, insurance alerts and claim info
● Pay your bill, call your carrier, or check on a claim
● Property Inventory – It's finally easy! REALLY! Use for estate planning, business, kids at school etc.
● Report a claim with your "mobile" claims kit – Anytime, Anywhere
● Locate a Tow Truck
● Vehicle Proof of Insurance ID Card storage
● Click and Share Inventory & Accident Reports
● . . . and much more!
If you don't have the app yet, here's how to download the app:
First, get out your phone! Just checking!
Using your PHONE, go to your app stores and search for the "Insurance Agent" app.
Search for "Insurance Agent" In the App store on your phone. Tap download to install the app on your device. Please ALLOW notifications to receive important alerts and updates 7 to 10 times per year. Example: severe weather claims communications.
Tap the Insurance Agent icon to open the app to the registration page. REGISTER with your primary email address and create a 6-character password for security. If you use an email address that's not in our system, please select our agency from the drop down menu. Let us know if this is your preferred email address.
Now that you're registered, you are ready to start using the app! Click Here to access our detailed Guide To Using Your New Insurance App!